Robe de princesse mi-longue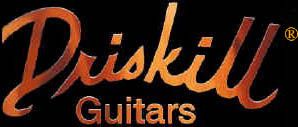 Paillettenkleider v-ausschnitt Kleider blumen veloursleder Natural Quited Maple Diablo with the Driskill Tremolo.
The pictures don't quite show how beautiful this guitar is. I tried both digital and film but I just couldn't capture it. I included some close ups of some things so that you could see the precision in the construction. I can't even begin to describe how great this guitar sounds and plays!!!!! It has incredible sustain and attack. It was hard to let this one leave, but Dennis will love it as much as me.
Sometime soon I will put up a bunch of pictures of how I make Driskill Diablos. I just have to find time and time is something that I never have nearly enough of. Dennis loves his guitar and said that if anyone had any questions about it or Driskill Guitars, they could email him-no problem. Hope that you enjoy these pictures. If you would like to contact Dennis his email is dmink@hotmail.com.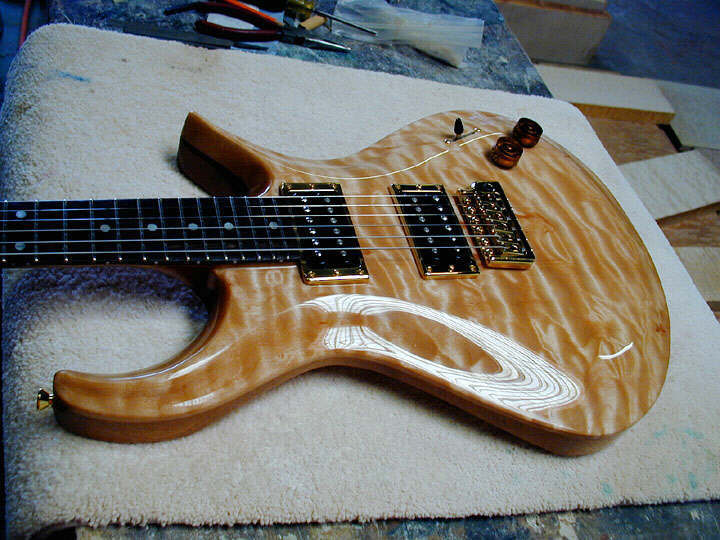 How is this for a nice, one piece, quilted top?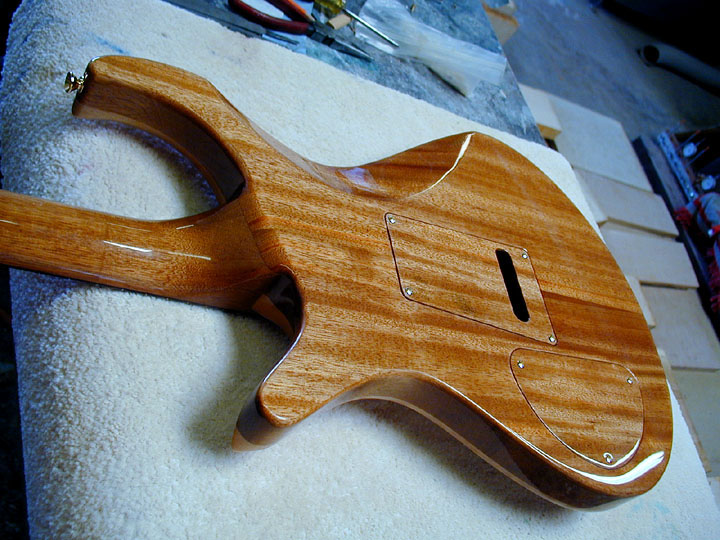 Look at the ribbon stripping in the mahogany! It is perfectly quartersawn with vertical grain. That gives it that ribbon stripped effect. This kind of wood is difficult to get, but it increases the stiffness dramatically. That in turn, facilitates its ability to create tone and sustain. Oh, and it kind of looks really nice too.
Humm....Yes, it's both a floor wax AND a dessert topping!
Ummm....Tastes great.......and look at that shine!
No wait. Give me a minute..... Looks great and sounds fantastic. There, I knew I'd get it right. I hand pick all of the wood for every guitar. Dennis and I decided that the natural mahogany covers would be best. I think we made the right choice.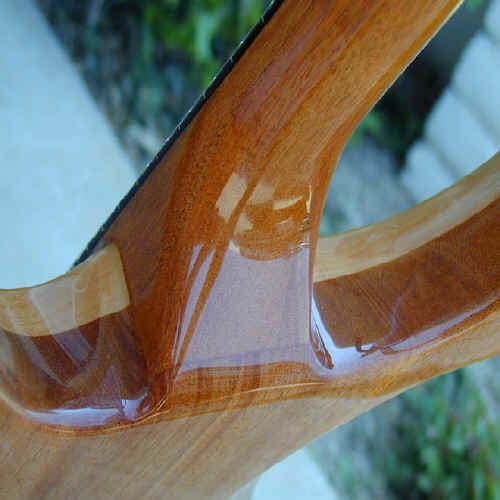 Notice the deep scoop that provides total access to the 24th fret. The scoop goes all of the way down to the back and then has a radiused edge.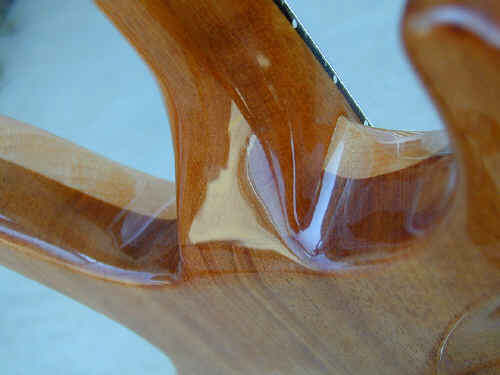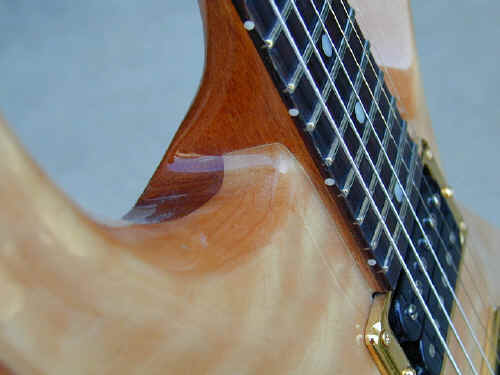 | | |
| --- | --- |
| | The back of the headstock with the Schaller locking tuners. I use these on all Driskill Guitars. That little point is very hard to do, but it gives it some more meat under the truss rod slot, and it looks cool. |
Here is the wiring which allows all of the cool sounds to come out. All of the pockets for the controls are offset from the top surface so that every knob comes out perpendicular to the top. Very hard to do, but it's much better than just grinding a spot in the top for the knob because your too lazy to do it right.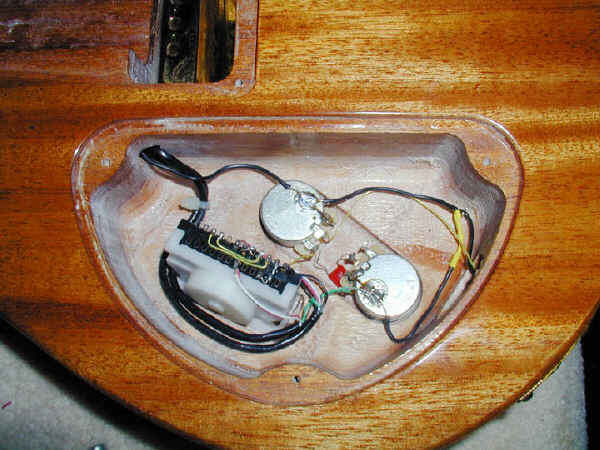 Here's another picture of it. I tried to get a good shot, but this was the best that the cameras would let me do.

What's that? Sawdust on the table? Where'd that come from? Looks like I need to dust.
In the paint booth. The lighting makes it look washed out: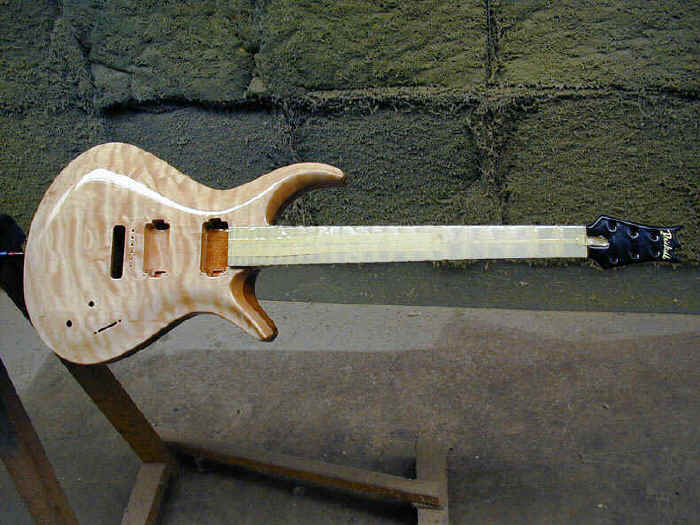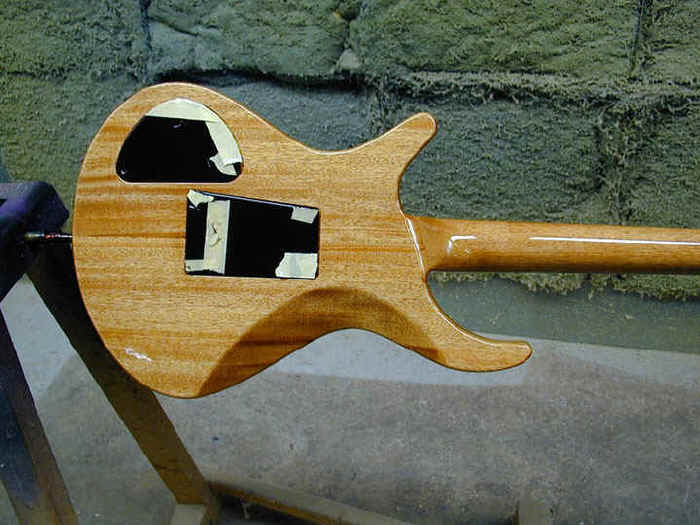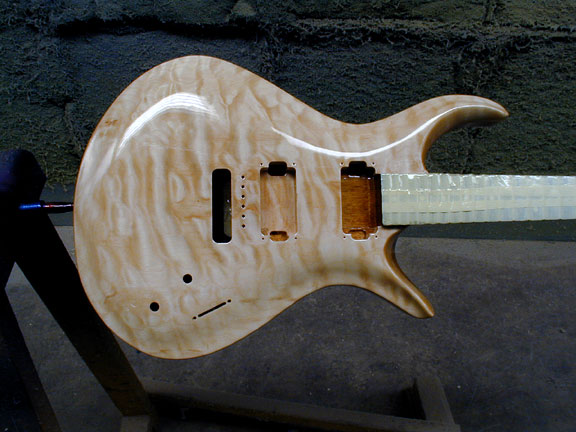 The headstock veneer is ebony as well as the truss rod cover. All real ebony, no painted headstocks or plastic truss rod covers. Not only is this veneer beautiful, it also increases the stiffness of the headstock and therefore helps create better tone. The Driskill logo is solid brass which is buffed up so that it shines. Every Driskill Guitar has either ebony or a matching body wood veneer and truss rod cover. Whichever one you want. All the logos are solid brass. No stickers.

The nuts on all Driskill Guitars are bone. They are hand shaped and then sanded and buffed so that they are smooth and shiny. Bone sounds the best.